Exploitation of Innocence – Report: Perceptions, policies hurting Black girls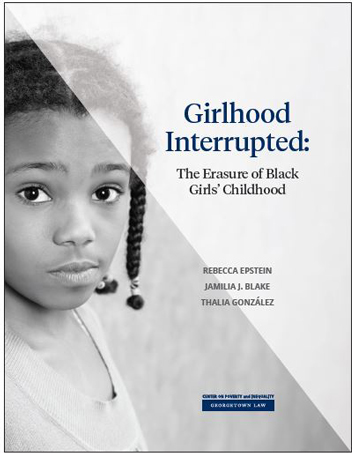 BY CHARLENE MUHAMMAD
She could have a baby doll in one hand and crayons in the other, but a Black girl as young as five-years-old is seen as less innocent and more adult-like than her White peers, according to a new study. "Girlhood Interrupted," released by the Georgetown Law Center on Poverty and Inequality, indicated that perception is of Black girls age 5 through age 14. Adults from various racial, ethnic and educational backgrounds surveyed on-line said they felt Black girls need less nurturing, less protection, and need to be supported and comforted less than White girls their age.
You know Trump's presidency is bad when Black America is rooting for the FBI
by Dr. James Peterson
Hope is dying. Millions of tiny cuts at a time – or presidential tweets to be exact. Hoping that American democracy might survive Trumpism; hoping that some egregious political mishap might bring an end to this presidency – that bald-faced lying, collusion, or obstruction powerful enough to force this Republican-controlled Congress to impeach; hoping that this presidential moment – our national nightmare – isn't the consequence of our slow and steady capitulation to the evils of capitalism no matter who occupies the White House. If hoping against hope were actually a thing we might better understand our collective willingness to breathlessly watch (and live tweet) the public testimony of former FBI Director, James Comey on Thursday.
NAACP Is Challenged to Become Relevant Again to a New Generation, Can They Do It?
By David Love
Founded in 1909, the NAACP is known as the nation's oldest civil rights organization. Launched in part as a response to the lynching of Black people across the United States at the time, the NAACP held a key role as one of the preeminent players in the civil rights movement. Today the organization retains the legacy of a glorious past, yet struggles with defining its role
Rising Number of Discrimination Lawsuits Highlights the Lack of Diversity In the Media
By Nadra Nittle AtlantaBlackStar.com
Before and after he entered the White House, President Donald Trump has vilified the media, branding news agencies that report unfavorably on him "fake news." His unrelenting attacks on journalism have led politicians, public figures and news reporters themselves to champion the benefits of a free press.
White supremacy doesn't care about black respectability, only black death
by David A. Love | theGrio
The police dashcam execution of Philando Castile in St. Paul, Minnesota, was released to the public Tuesday. And if you're like me, you just don't have time for this sh*t. Not today, not any day. The lesson from this case, this recorded lynching of another black man, is that white supremacy doesn't give a damn about black respectability and whether you were innocent and complied with the cops. The only thing of concern to white supremacy is the criminalization of all black people
Juneteenth is our Independence Day, but we're still not free
by David A. Love | theGrio
Black people celebrate Juneteenth to mark our freedom from slavery, but that doesn't mean slavery is over. And if we are not too careful, the freedom we have gained can be easily taken from us. It has been over 150 years since the first Juneteenth commemoration.